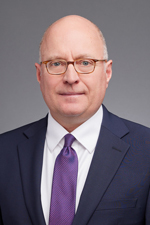 Matthew R. Henderson
Partner
mhenderson@hinshawlaw.com
312-704-3650
Matthew Henderson concentrates his practice in the representation of attorneys in all aspects of professional liability and ethics including the …
Showing 2 posts by Matthew R. Henderson.
What are the ethical implications of a client showing up at your office with a dead body in the back of his pick-up truck? It is like the old law school exam question where the client brings the smoking gun to the lawyer's office and the attorney has to decide what to do with it. Here, the lawyer "took the unprecedented step" of allowing the client to speak to sheriff's deputies about the incident to bolster his claim for self-defense. More ›
In a recent speech to the Young Lawyers Division of the UJA-Federation of New York to promote his new book Uncertain Justice, Harvard Law professor Lawrence Tribe urged young lawyers at Big Law firms to demand that the law firms live up to their professional obligation to provide pro bono legal services. He also noted that there is a crisis in deportation and child custody cases — vitally important civil matters — where there is presently no constitutional right to counsel.
Click here to read an Above the Law article about the speech.
Search

Subscribe via Email


Subscribe to this blog's feed

Follow us on Twitter
Blog Editors